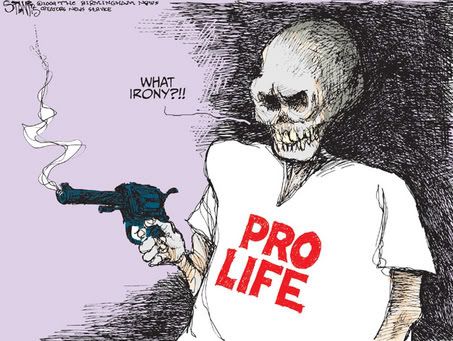 Thanks to Integral Options Cafe for posting the
following
about religion and terrorism.
I've written about the issues of
gun violence
,
terrorism
and the psychology of labeling in the past. And specifically, I've made comments about how media outlets and the general public in many nations routinely label violent acts done by Muslims as "Islamic terrorism," while at the same time, pointing to similar acts done by Christians, Buddhists, Hindus or others as having nothing to do with the person's religious background. Here is the first two paragraphs from the article posted on Integral Options Cafe:
Jury selection starts this week in the trial of Scott Roeder, who has confessed to the assassination last May of George Tiller, a doctor vilified by pro-lifers for performing late-term abortions.

(There's a trial because Roeder pled "not guilty''; since he considers abortion to be murder, he doesn't believe he committed a crime by walking into Tiller's Wichita church and shooting the doctor in the head.) Roeder has a history of mental disturbance but he's also deeply religious, according to his ex-wife, who says he "turned to the church and got involved in anti-abortion.'' So was his the act of a nutcase? Maybe, instead, we should consider it "Christianist terrorism''?
Scott Roeder's case was what prompted me last spring to really consider how commonplace this kind of mislabeling is. Have you ever heard the phrase "Christianist terrorist" anywhere? I know I haven't. And is it even accurate? Where in the Bible is there a call to murder doctors who are performing abortions? Where is there any justification for murder whatsoever?
There continues to be a lot of hand-wringing over the case of Army psychiatrist Nidal Malik Hasan, who murdered 13 of his colleagues and injured 30 more in November. And yet, nearly every description of this horrible act is explicitly linked to Islam, whereas Roeder's acts is almost never linked in such a way. Both Hasan and Roeder took very extreme views of certain teachings in their faiths, and then chose to act in the most extreme way possible. However, neither man represents even a conservative view of their traditions. They've stepped out of bounds with their acts, and as far as I'm concerned we need to condemn their acts individually, and not attach any religious tag on it. In addition, we need work to understand why people use religion to justify horrific acts like terrorism, and look for systemic ways to prevent such things from happening in the future. And when I say systemic, I don't mean body scanning machines, which are simply reactionary measures. Maybe they provide some level of security, but they don't root out terrorism.
Buddhism is all about going to the roots, and uprooting that which is preventing us from being liberated. I believe this is what will be necessary to change the cultures of terrorism that have stolen religious teachings, and taken down so many lives in the process. Lets begin with how we label acts in the world - using simple, clear speech instead of labels bathed in suspicion and hatred.